ROOMS, RATES, AND POLICIES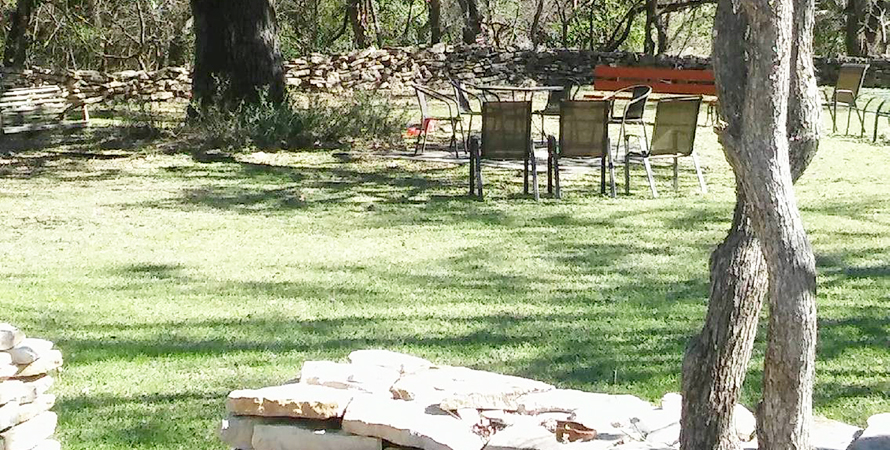 Homestead at the Dripping Springs is the site of three distinct, but equally welcoming, buildings for your stay in Downtown Dripping Springs: Clara's House, the Butler Cabin, and Willie Mae's Cottage.
All three facilities offer free continental breakfast, flat screen TV, queen-sized beds, hairdryers, and a snack basket full of goodies. The area behind the houses has a huge oak tree which shades chairs, table, large swing, and washer pitching pits. It also leads to the steps to the original "dripping spring."
RATES
Note: Check-in time is 3:00PM and check-out time is 12:00PM (Noon)
Clara's House
Daily rate is $150 plus tax, double occupancy. Additional person is $25 per person, per day to help cover the cost of extra linens and towels.   Cleaning Fee is $35 per stay.  
The Butler Cabin
Daily rate is $120 plus tax.  Cleaning Fee is $20 per stay.
Willie Mae's Cottage
Daily rate is $140 plus tax.  Cleaning Fee is $30  per stay.
RESERVATIONS AND CANCELLATION POLICIES
For reservations please call 512-858-4547.
Reservations are confirmed by sending one-half of the reservation amount. No-shows and guests departing early will be charged the full amount of any reservation.
Cancellation policy: Cancellations prior to the reservation date will be refunded minus a $25 charge. Deposits will be forfeited if cancellation is within the week of the reservation.
We accept only cash or check.
OTHER POLICIES AND ADVISORIES
Please respect a smoke-free environment in all facilities.
Candles are not permitted in facilities.
Facilities are not equipped for children.
No pets, please, however there are boarding facilities in the area.
Facilities are not handicapped accessible.
Rates and policies listed on website may be subject to change.